Crawl Space Encapsulation & Repair Near Chicopee, Springfield, Worcester
Crawl Space Vapor Barriers
Your home is an envelope, and all the parts of that envelope play a role that affects you and the rest of your home.
At Leader Foundation Solutions, we specialize in crawl space problems. We offer free crawl space repair quotes in the Massachusetts and Rhode Island area, like in Chicopee.
Crawl Space Symptoms
Drywall Cracks in the Home
Uneven Floors
Odors in the Home
Worsening Allergies or Asthma Symptoms
If you're having a problem with your crawl space, you've come to the right place. Whatever your crawlspace problem, we have the products and experience to get you the best solution.
Fixing your crawl space will help you avoid larger problems down the road, create a healthier home, and save you money on your utility bills. Plus, once you've encapsulated your crawl space with a vapor barrier, you'll have additional storage space in your house!
Before and After

Before

After

CleanSpace in Southfield, MA

The before picture shows the dirty, wet and musty crawlspace. Our crew installed CleanSpace vapor barrier, a SmartSump to take care of the standing water that's seen in the before picture, and a Sanidry CX. In the after picture, you can see the SaniDry CX crawl space dehumidifier in place to keep the relative humidity low and the cleanliness the crawlspace has now with the CleanSpace vapor barrier installed!

Before

After

Athol, MA Wet Basement History

This customer in Athol, MA contacted us because he was watching water running down the slope of his back yard into his basement. Our team installed our patented CleanSpace wall vapor and moisture barrier as well as a SaniDry Sedona Dehumidifier. Now this homeowner can be sure his basement will be dry despite the hilly terrain.

Before

After

Holden, MA CleanSpace Vapor Barrier

When this customer called, he had visions of finishing his basement. With the mold and moisture issues he found down there, he knew he needed a solution before his refinishing began. Leader Foundation Solutions installed CleanSpace vapor barrier to keep moisture, mold and mildew at bay. Now the customer is working on planning the basement of his dreams.


Certified Crawl Space Contractors in MA & CT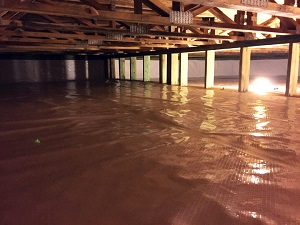 All-size solutions. The CleanSpace® Crawl Space Encapsulation System can provide moisture control for any size crawl space.
At Leader Foundation Solutions we use and recommend products developed by the Basement Systems network of waterproofing contractors. In business since 1987, Basement Systems has a Research and Development department, that constantly searches for the best, most proven products for lasting crawl space solutions.
With more than 30 patented products, Basement Systems provides crawl space repair products that include a written warranty.
Your free crawl space repair quote includes an inspection, professional consultation, and a written quote. Before your free quote, we'll send you a copy of our full-color Crawl Space Science Book. It includes 88-pages of information on crawlspace issues, how they're solved, and how our products can fix it. Call or e-mail us today to get started!
Leader Foundation Solutions provides crawl space repair in Worcester, Springfield, Chicopee, Westfield, Leominster, Pittsfield, Fitchburg, Amherst, Shrewsbury, Holyoke, Ludlow, West Springfield, Greenfield, Westborough, Easthampton, Gardner, and the surrounding areas in Massachusetts and Rhode Island.