French Drain System Installation Near Springfield, Worcester, Chicopee
Dry Basement Solutions by Expert Contractor
At Leader Foundation Solutions, we have solutions to dry out your basement and crawlspace. We have specialized basement drain systems that are customized for your home's problem. Get our free French drain cost estimate by contacting us today! Installations usually take only 1-2 days.
We provide french drain installations in Chicopee, Worcester, Springfield, Westfield, Leominster, Pittsfield, Fitchburg, Amherst, Shrewsbury, Holyoke, Gardner, Ludlow, West Springfield, Greenfield, Easthampton, Westborough, and the surrounding areas in Massachusetts and Rhode Island.
The WaterGuard® Drainage System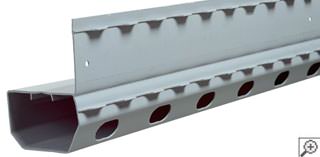 Our WaterGuard® drainage system is a perfect solution for many wet basements.
Unlike outdated drain tile systems installed around the outside of the home, WaterGuard® is installed under the perimeter edge of the basement floor.
WaterGuard® Specifications
Wall flange with 3/8" opening to collect wall water -- There's no gap on the basement floor to allow humidity or to debris in
Waterproofs concrete block foundation walls -- Holes are drilled in the bottom of the blocks to drain water from cavities.
Won't clog with mud -- The system sits on the footing, away from what's called the "mud zone" under your floor. Water's collected without clogs that often times stop other kinds of systems.
DryTrak® Monolithic Floor Drains
As a baseboard drainage system, DryTrak® installs above the basement floor and inside the basement perimeter.
If you have a monolithic foundation, (your floor and footing were poured as one piece), this is usually the best drainage system. DryTrak® is also perfect when jackhammering your floor isn't an option, like if your basement has radiant heat.
DryTrak® Specifications
Installs without jackhammering a drain channel -- Your monolithic floor (and your foundation footing) won't be damaged during installation.
Can waterproof concrete block foundation walls -- Like WaterGuard®, holes are drilled at the bottom of the block to drain cavities.
Won't collect mud or debris -- As a sealed basement drain that's put on top of your basement floor and against the wall, there's no opening for debris to collect in the system from the basement floor.
---
Other Drainage Systems
We also offer the following specialized drainage systems: