Servicing Your Sump Pump System Near Springfield, Worcester, Chicopee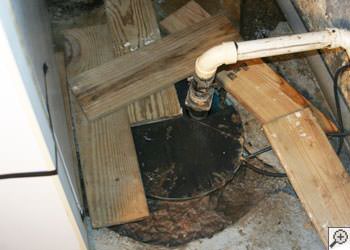 Getting your sump pump serviced makes sure it's working as efficiently as possible.
Annual Maintenance, Warranty Work for a Dry Basement
Your basement waterproofing system is important to your home because it protects you and belongings from water. And as a machine its moving parts can go through some wear and tear over time.
Having an expert annually check the system, helps find potential problems before they find you!
We service waterproofing systems in Massachusetts and Rhode Island, including Worcester, Springfield, Chicopee and nearby.
Servicing Your Waterproofing System
Leader Foundation Solutions recommends annual service and maintenance of your waterproofing system. At this visit, the technician will:
Test & Clean the Sump Pump System: Your sump pump consists of many parts that can wear down over time. Your service technician will check the pump's float switch and intake for any potential issues. The intake valve and impeller will be cleaned and checked to make sure they are working properly.

Once the technician ensures the pump is working correctly, the sump liner is cleaned to keep it from potentially clogging in the future.
Testing Sump Batteries: The battery in the WaterWatch® Sump Pump Alarm should be replaced annually and the service technician will do this during the visit. Plus, the backup sump pump battery will be tested to make sure it still has an adequate charge.
Service Your Dehumidifier: Our SaniDry™ dehumidifiers include 2 filters that need to be cleaned, while the air filter is replaced. It will also be oiled and parts are inspected.
Check the Discharge Line: We check the discharge line to make sure water's moving through the discharge line correctly and we check for freezing.
Maintain Your Crawl Space Liner: If you've sealed your crawlspace, we check the CleanSpace® liner and other crawlspace system components.
Check For Problems: Often our service technicians see signs of new problems that didn't exist before. They can give you and/or implement solutions that will address these proactively.

If you don't have a battery backup sump pump installed even a properly functioning sump pump system will fail if there's the power goes out or a fuse blows.
A Lifetime Pump Warranty
If a sump pump warranty offers "free replacements" then you should ask: "When would I ask for my free replacement?"
Unfortunately, the answer to that question is "After your pump fails and the basement is wet".
A wet basement isn't exactly "free". The best thing is to find a reliable basement waterproofer in your neighborhood -- one who installs a high-quality system with expert technicians. The company should provide annual maintenance, to keep the basement dry all the time!
Looking for a price? Get a no cost, no obligation free estimate.